About May Bleeker-Phelan
My name is May Bleeker-Phelan, and I come from Cape Town, South Africa.
---
At the age of 18 months I had an accident with hot water. What followed left its mark on me on many levels.
It is not the only defining moment of my life, or perhaps even the most important, but what I learnt afterwards, about coping with life, physical and mental scars, difficult emotions and self esteem, eventually led to me creating this website.
---
Work
I am passionate about human development and work in the career and leadership development field.
I also love this planet we live on, and all it's creatures. While my work focuses mainly on human development, my intention is really for it to be for the good of all.
---
Other things I like to do
In between coaching and assessments I am learning the ancient language of Sanskrit, exploring creative pursuits and paying attention to the natural world.
---
When I have the time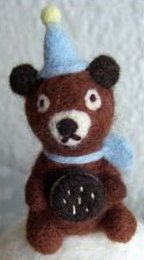 When mental work starts to drag I like to take a walk, make things with my hands or play around with paint. Some of the pictures and felt items on this website are the result.
In my dreams (the only place in which I can invent time) I still want to learn have now learnt how to do free machine stitching, so I can make pictures with thread. I still want to ski on snow, walk amongst the Dolomites, fly in a helicopter, and visit the arctic circle.
---
You
When I first started this website a colleague asked: "What is it for?".
I don't have an answer to what.
But I do know who it is for. Part of it is for me and part is for you.
I hope you find it useful.
Please feel free to get in touch.
---
About May Bleeker